Welcome to What's Happening in Oakland Education? volume 5, a newsletter to keep the community informed. We know how busy families and educators are. The typical OUSD board meeting stretches past midnight and few parents or teachers can tune in as they juggle so many responsibilities.
We are a couple months into the 2021-22 school year! Here's an update on what's happening:
COVID Safety Update
OUSD's COVID-19 In-Person Case Dashboard, which is updated weekly, shows that cases continue to decline. As of September 30th, there were 17 reported weekly cases among students across OUSD campuses and 3 cases reported among staff.
Student Vaccination Requirement
Last week, the Oakland Unified School Board voted in favor of a resolution mandating COVID-19 vaccinations for students ages 12 and up. The resolution directs the Superintendent to develop recommendations for enforcement of this vaccination requirement, and to report on such recommendations to the Board no later than October.
Students who choose not to get the vaccine and do not opt to enroll in Sojourner Truth, the District's designated remote learning school, may ultimately be unenrolled from the District. Exceptions such as a physician's recommendation against vaccination based on medical circumstances will be considered. Superintendent Johnson-Trammell has said she plans to continue discussions with legislators around vaccination laws, and will most likely not implement guidelines until January 2022 at the earliest.
We hope both the Board and the Superintendent move forward with the plan with equity at the center and recognize that Oakland's underrepresented communities remain the least vaccinated. Efforts to educate and provide access to them should be a priority. For a list of vaccination resources, click here.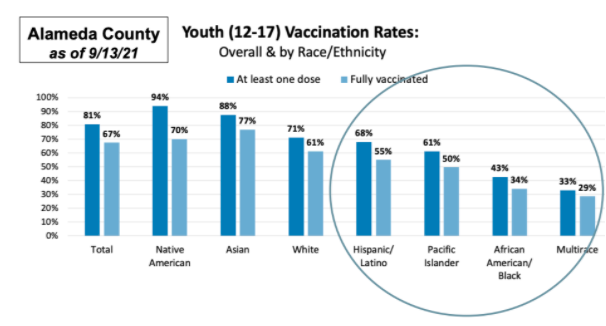 Ask Your Child's Teacher for This New Personalized Report about Your Child's Progress
After so much disruption to student learning, are you curious about what your child's strengths and areas of growth are in reading and math? Did you know each OUSD student in K-5th grade should receive personalized reports that can give families this exact info about their child? This new report – the i-Ready parent report – can help parents create plans with their teachers to help students grow. Check out this guest blog, where Oakland parent of four, Brandon Wall, shares how he's using this new report to support his kids. Here are some tips for parents as well:
Tips for parents!
If you didn't receive your Spring 2021 or Fall 2021 i-Ready reports, ask your teacher directly. It is your right to have this information and it is available for all parents of students in grades K-5!
After you review the report and identify growth areas, use these math and literacy guides from GO Public Schools and these K-5 academic milestones from OUSD to better understand where to focus with your child.
CLICK HERE to sign up for Board Watch to keep up to date with news!
Update on Black Student Reparations
The Reparations for Black Students Resolution was passed by the Board earlier this year in March. The steering committee, consisting of a combination of 20-25 District staff and students will have their kick off meeting on 9/30. The meeting is open to the public, check out the District calendar for agenda and zoom link to join.
The steering committee is charged with:
Developing thriving Black student indicators.
Developing the Black student thriving plan.
Developing and monitoring progress of the Black Thriving fund.
Monitoring other initiatives focused on advancing outcomes for Black students in OUSD and across the country.
In last week's board meeting, Superintendent Kyla Johnson Trammel laid out a timeline to achieve these objectives:
The Superintendent and task force have made a commitment to communication and transparency, including:
Regular updates to the Board in the superintendent's report and bi-weekly reports on the progress of the Task Force and Black Student success.
A forthcoming Reparations for Black Students webpage.
We'd love to hear your thoughts on What's Happening in Oakland Education?. Let us know what you liked and what you'd like to see in future editions.
If you want to stay in the loop about what is happening at OUSD board meetings, sign up here to receive Board Watch.