Lea en español a abajo
I have an exciting update to share today. Earlier this year we started our search for GO Oakland's next Executive Director, and I am thrilled to share that I have selected public education and social justice advocate Maribel Gonzalez to lead GO Oakland's incredible team.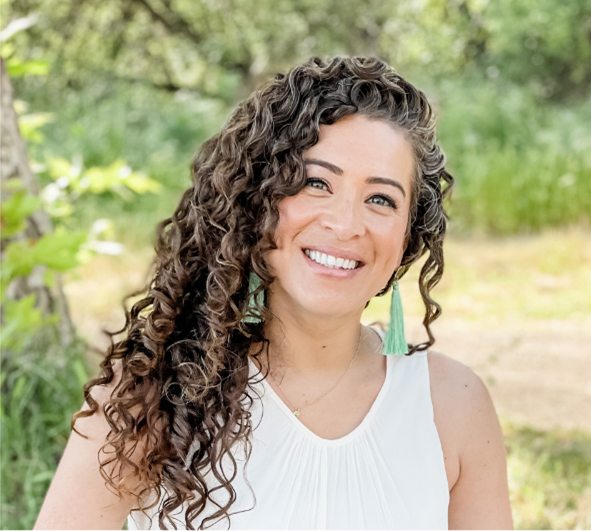 Meet Maribel Gonzalez, GO Oakland's Executive Director
I am inspired by Maribel's passion for educational justice, her deep expertise in community organizing, and her track record of success as a leader, both in the classroom and at the systems level. She has also been a steadfast supporter of GO Oakland over the last decade, having most recently served as a member of the Oakland Leadership Council.
As a Latina leader, Maribel reflects the communities we serve. She attended some of California's lowest performing K-12 public schools and is especially sensitive to the challenges many families of color face. Throughout her career, she has organized parents and students in underserved communities of color to achieve better outcomes for kids. Her work centers these families and her highest priority is the wellbeing of children. Maribel has deep roots in Oakland and has partnered with education organizations across the city on community-driven literacy solutions.
Maribel is eager to hit the ground running with GO Oakland's staff and partner with valued community members like you. We're moving into this next chapter, ready to forge a new path toward impact. I'm excited to work alongside Maribel as we refresh GO's electoral strategy and build an inclusive and diverse base for state-level advocacy. Our shared experience in Sacramento aligns with GO's vision for amplifying family voice and local issues at the Capitol.
I'd like to thank Thomas Maffai, Managing Director, for leading the Oakland team during this time of transition. Thomas will continue to lead our policy team and partner closely with Maribel.
You'll hear from Maribel next week, so keep an eye on your inbox. If you'd like to send Maribel a note of congratulations or schedule a meeting, she can be reached at mgonzalez@gopublicschools.org.
P.S. We're also hiring! Please submit your resume here.
ESPAÑOL
Me comunico hoy con una noticia emocionante. A principios de este año, comenzamos nuestra búsqueda del próximo Director/a Ejecutivo/a de GO Oakland, y me complace compartir que he seleccionado a Maribel González, una defensora de la educación pública y justicia social, para liderar el increíble equipo de GO Oakland.
Conozca a Maribel González, directora ejecutiva de GO Oakland
Me inspira la pasión de Maribel por la justicia educativa, su profunda experiencia organizando comunidades y su historial de éxito como líder, tanto en el aula como a nivel de sistemas. También ha sido una firme defensora de GO Oakland durante la última década, y recientemente se desempeñó como miembro del Consejo de Liderazgo de GO Oakland.
Como líder Latina, Maribel refleja las comunidades a las que servimos. Asistió a escuelas públicas K-12 de menor rendimiento de California y conoce personalmente los desafíos que enfrentan muchas familias de color. A lo largo de su carrera, ha organizado a padres y estudiantes en comunidades de color marginadas para lograr mejores resultados para los niños. Su trabajo se centra en estas familias y su máxima prioridad es el bienestar de los niños. Maribel tiene raíces profundas en Oakland y se ha asociado con organizaciones educativas de toda la ciudad para impulsar iniciativas comunitarias enfocadas en fomentar la alfabetización.
Maribel está ansiosa por comenzar a trabajar con el equipo de GO Oakland y profundizar sus relaciones con valiosos miembros de la comunidad como tú. Nos movemos hacia el próximo capítulo, listos para forjar un nuevo camino hacia el impacto. Estoy emocionada de trabajar junto a Maribel mientras que actualizamos la estrategia electoral de GO y construimos una base inclusiva y diversa para la defensa a nivel estatal. Nuestra experiencia compartida en Sacramento se alinea con la visión de GO de amplificar las voces de la familias y las prioridades locales en el Capitolio.
Me gustaría agradecer a Thomas Maffai, Director Gerente, por liderar el equipo de Oakland durante este tiempo de transición. Thomas continuará liderando nuestro equipo de pólizas y trabajará muy de cerca con Maribel.
Tendrás noticias de Maribel la próxima semana, así que no pierdas de vista tu bandeja de entrada. Si desea enviarle a Maribel una nota de felicitación o programar una reunión, puede comunicarse con ella en mgonzalez@gopublicschools.org.
PD ¡También estamos contratando! Envíe su currículum aquí.