In April, we released a new report entitled "Gaining Ground," which looked at student literacy progress on the i-Ready assessment and highlighted the top 10 OUSD elementary schools that are helping Black students, Latino students, and English Learners make gains in reading (Spanish version here). We know that the pandemic created major disruptions to student learning for the past few years, making the urgency to accelerate student learning this year even more critical.
There is no question how disruptive the last two years have been for our students. For English Learners (ELs) and their families in particular, the transition to distance learning proved to be especially difficult. In addition to connectivity issues and parent-teacher communications strained by language barriers, one of the biggest challenges for ELs during this time was finding space to practice English. 
A new report published by Los Angeles-based community organizations found that, for English Learners, the "the lack of in-person instruction contributed to further linguistic isolation and slowing rates of English language acquisition." The data seen by Nicole Knight, Executive Director of OUSD's Office of English Language Learner and Multilingual Achievement (ELLMA), backs this up. 
Knight was dismayed by the fact that only 32% of ELs made adequate growth from fall 2020 to fall 2021. But since fully returning to the classroom, more than half of OUSD's ELs hit their expected reading growth targets and one third exceeded their expected growth.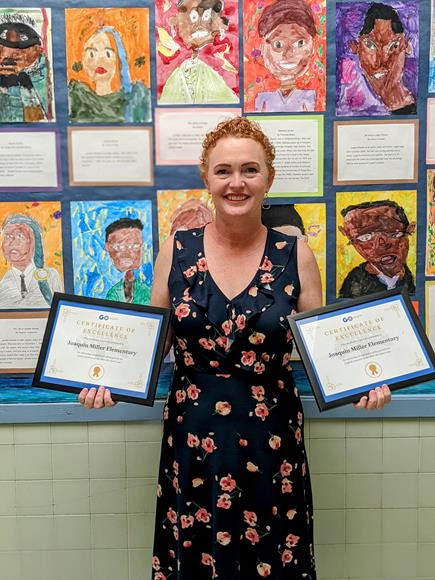 Principal Sara Green accepts Joaquin Miller's awards for reading growth
At Joaquin Miller Elementary, where ELs gained the most reading ground according to OUSD's winter i-Ready results, staff credit the return to in-person learning and quality, data-driven instruction for their students' rise. "I wasn't surprised by the growth because [our English Learners] are so psyched to be in-person and they are taking it in," shared Jennifer Kaufman, a literacy coach at Joaquin Miller. "Zoom was definitely not the best environment for them." 
Kaufman explained that being able to use English in authentic ways with peers and teachers in the classroom and at recess matters significantly for students learning the language. ELs practice their language skills through casual conversations with other students – an opportunity that wasn't readily available during distance learning. 
Joaquin Miller staff also point to high-impact tutoring as a successful intervention to give ELs the targeted support they need. But what's essential is the quality of the tutors – not the quantity. The academic tutors on the Joaquin Miller campus are predominantly former teachers, many of whom were part of the Wolverine family for years before retiring. 
"Teachers are able to trust that the tutors know what they are doing when they are in the classroom or when they pull students out," shared Kaufman. "We're basically a big family. There's a lot of familiarity and a lot of trust." 
We at GO applaud Joaquin Miller's incredible results and look forward to celebrating the continued growth that will result from their data-driven approach to learning and thoughtful interventions.